The memoirs, diary, and life of Private Jefferson Moses, Company G, 93rd Illinois Volunteers.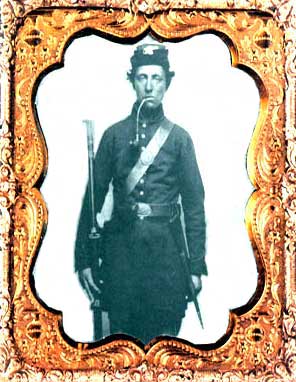 The memoirs were probably written in 1911 and describe the organization and early action of Company G, 93rd Regiment, Illinois Volunteers. These recollections end abruptly after the surrender of Vicksburg. The diary was started on August 28, 1863. It is in poor condition and has been very difficult to transcribe. Included are selections that may be of particular interest. The spelling of the memoirs and diary have not been changed except where necessary for clarity. Punctuation has been added.
Shown is a sixth plate tintype of Jefferson Moses. It was probably taken in Chicago in October, 1862.