OBITUARY, T. J. MOSES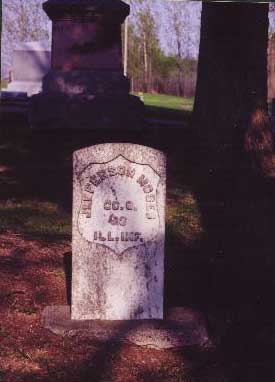 Obituary, T.J.Moses (Original shown below)
Thomas Jefferson Moses was born in Sommerset county, Pa., on the 24th of May, 1843, and died Dec. 13, 1922, aged 79 years, 6 months and 17 days.
He came to Illinois with his parents when a boy. It was there he enlisted in the Civil War at the age of 19 and served 3 years. When he came home from the army, he was married to Miss Mary Patten.
In the early seventies, he came to Iowa and settled on a farm south of Story City. Six children were born to this union, only two are living, Mrs. Clara Manges and Mrs. Della Gaard of Marshalltown, Iowa. Mrs. Moses died in 1886.
In 1890 Mr. Moses again married, to Miss Ellen Syler of Cedarville, Ill. She died in 1903.
In 1890 the family moved to Story City where all but 3 years were spent, those being at Livermore, Iowa. In 1905 Mr. Moses entered the Soldier's Home, at which place he made his home most of the time up to his death. He was laid to rest in the Center cemetery besides his wife.
Funeral services were conducted in the Grace church Dec. 16th, Rev. Smith officiating and a large number of the deceased's old time friends being present to pay their last respects to the departed.
Mr. Moses, besides being one of our older citizens, had been a frequent contributor to the columns of the Herald. His letters were always interesting and many of our readers will no doubt be sorry to learn that his pen (or pencil, as he usually used) will no longer furnish them with news and comments from the soldier's home in Marshalltown.
Card of Thanks
We wish to help every one who helped us by word or deed at the time of the death of our father, especially Rev. Smith and the people of the church.
Mrs. Clara Manges,
Mrs. Della Gaard.