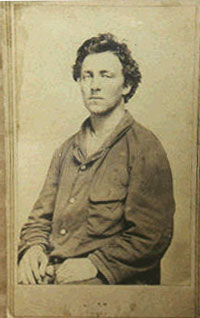 Thomas Jefferson Moses was born in Somerset County, Pennsylvania on May 24, 1843. His parents were Abraham Moses and Julian Rhoades Moses. Abraham Moses was a farmer and had six children. The Moses family was of German ancestry. In 1856 the family moved to a farm in Stephenson County, Illinois, near Freeport.
On August 12, 1862, Jefferson enlisted in the 93rd Regiment, Illinois Volunteers. The 93rd had a distinguished record, participating at Vicksburg, Missionary Ridge and the March to the Sea. It also suffered heavy casualties at Champion Hill and Allatoona Pass.
Private Moses became ill at Vicksburg and was furloughed in July, 1863. After returning home, he spent time in convalescent camps in Nashville and Memphis before rejoining his regiment on January 6, 1864 in northern Alabama. He participated in the battle of Allatoona Pass on October 5, 1864, the March to the Sea, the March through the Carolinas, and the Grand Review in Washington D.C.