BACKGROUND of MOSES' DIARY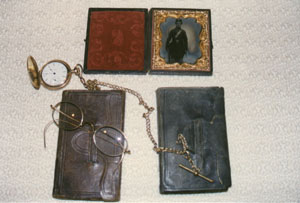 The diary was presented to Jefferson Moses by his father when he was home on furlough in September, 1863. His initial entries were irregular but starting on October 16, he seldom missed a day until his discharge in June, 1865. There were actually two diaries as he filled the first one in March, 1864. His father sent him the second diary.
Each diary is about 3"x5" in size. He completed it in pencil. There were pockets in the diary where he kept loose items including poems and practical instructions for treating illness and battle wounds.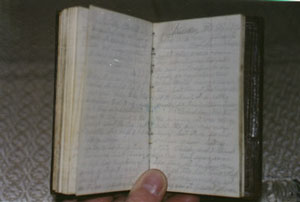 Moses often gave daily weather reports when there wasn't much else to report in the diary. There were events he witnessed of historical importance where I wished he would have given more detail or perspective. On the other hand, he had a way with words and an ability to describe the life of an ordinary soldier.
The transcription of the diary has been very difficult. The writing has faded. He does not use punctuation so we had to assume where sentences begin and end. Capitalization of words was used irregularly and usually for emphasis. His handwriting was difficult to decipher, and he had many misspelled words.
In the transcription of the diary, there are places where we had to make assumptions and other places where it was just plain impossible to determine the meaning of the entry. For this web site, we have included items that would be of more interest and items where we feel more confident of the accuracy of the transcription. We usually have not included the "weather reports". Our intent is to continue to increase the number of items included on this site.
Shown below is a scanned copy of two diary pages; above are photos of the diaries and of two of the pages. When we copied the diary, it was possible to increase the size of the pages. We do the transcription from the copy due to the larger size and so not to damage the original diaries by handling.